Promote your business!
Our club has provided opportunities for community members to be part of our family as a player, administrator or supporter for in excess of fifty years. We have over 150 playing members from our Junior Cricket program (for ages 7-16) all the way to our senior competition. If you include these players families and long-time supporters of the club, there are over 500 people (minimum) who directly benefit from involvement with the Baden Powell Cricket Club. Through sponsorship of our club you have the opportunity to readily access and become familiar to this large network of local community members.
Advertising opportunities for your business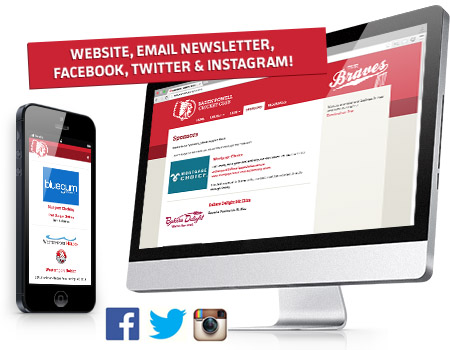 Internet exposure.
Our website is the members hub for information throughout the year. Members are constantly accessing our webpage for updated club news, game day information, social events, sponsor links etc. Sponsors links on the Baden Powell CC website is a great way to promote a business. We have widget links scrolling constantly on the home page for browsers to click on and also a dedicated 'sponsors' page with all contact information and links to sponsors websites. Baden Powell Cricket Club also use social media. This has also been an extremely popular medium with our members to access club news. Sponsors are frequently mentioned on our social media sites. We also have an email newsletter that is sent out at the competition of every round to all club members - great exposure for your business!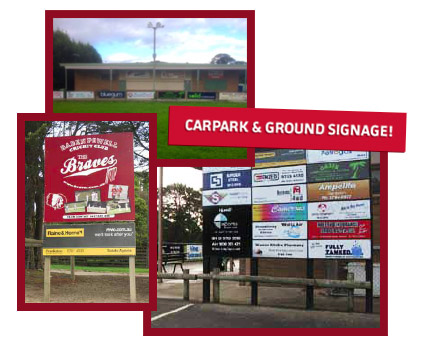 Ground Signage
Baden Powell Cricket Club will arrange for ground signage to be made and placed around our main oval at Overport Park. These signs are permanent for 12 months (during both the Baden Powell Cricket Clubs season in summer and also the Frankston Dolphins Junior Football Clubs season in winter).
Level 3,4,5 & 6 sponsors also will have their logo placed on the Baden Powell Cricket Clubs entrance sign, which is viewable by all traffic on Overport Road.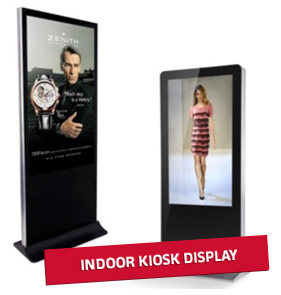 Indoor display kiosk
Situated in a prominent position within the Baden Powell Cricket Club rooms is a high resolution display kiosk monitor which can scroll through various sponsors adverts, logos, specials or deals.
The kiosk display is always on for club functions, game days and midweek training giving the sponsor maximum exposure with beautiful clarity and brightness.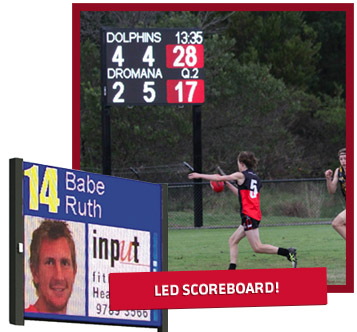 LED Scoreboard
The clubs newest addition and the flagship for getting the message across to the clubs members and visitors. Your business logo, advert or message up in lights during match day or nights. Breaks in play will never be boring with our new scoreboard scrolling through sponsors logos for all to see.
The introduction of this LED scoreboard to our Overport Road oval will see a significant increase in signage exposure for all of our partners.
This provides our sponsors with the opportunity to promote it's association with the Club and it's core purpose.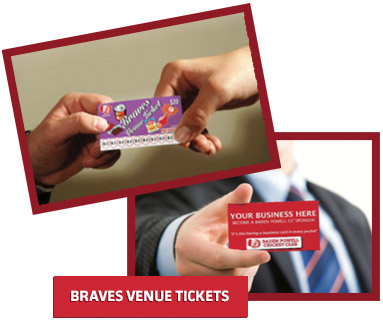 BRAVES Venue Tickets
Another great way to get your business out there to our members and beyond is to sponsor the Braves Venue Ticket. This is a business card ticket which is purchased at the club and acts as 'Baden Powell money' to purchase any items sold by the club from soft drink to club merchandise.
The backs of the cards are available for sponsorship opportunities to interested businesses. It's like having your business card in everyones wallet or pocket. This is a fantastic avenue to sponsor the club, as these cards are extremely popular to the members, supporters and visitors.
Braves Venue Ticket Sponsorship: Your business/sponsorship printed on the back of 500 venue tickets (business card size) for $500.
Packages
Level 1
$100
Level 2
$250
Level 3
$500
Level 4
$1000
Level 5
$1500
Level 6
$2000
Logo and link on club website
YES
YES
YES
YES
YES
YES
Logo and specials on email newsletter and social media
YES
YES
YES
YES
YES
YES
Logo and/or message displayed on our large screen in clubroom
YES
YES
YES
YES
YES
YES
Logo on LED Scoreboard
YES
YES
YES
YES
YES
Driveway sign viewable on entry & from Overport Road
YES
YES
YES
YES
LED Scoreboard - scrolling message display all game day
YES
YES
YES
Player's subscriptions included
YES
YES
YES
Large double sided fence signs around main ground (610x2440)
1
1
1
Naming rights to larger club functions (with 2 invitations)
Tier 2
Funct.
Tier 1
Funct.
If you have something else in mind, we can tailor make a package to suit your business. All sponsorships and donations are tax deductible.
Sponsorship Enquiries
Richard Dawe
Email: sponsorship@braves.com.au
Mobile: 0404 637 555