... See moreSee less
They're cool 3 pink - 2 black please x
I'll get 3 black and 2 pink and will do pick up 🙌🏼
5 black, 3 pink, 2 red please and thankyou! Baden Powell Cricket Club
Braves Just to clarify Sorry for any inconvenience The pink and Black ones are plain no BPCC The Red ones have the BPCC logo
3 black and 2 pink were should we pick up from?
Join Facebook group mount Eliza community notice board And post your add
Looking for a junior footy/senior footy and netball club?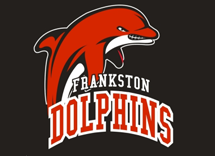 Check out our Overport Park co-tentants the Frankston Dolphins Junior Football Club and the Frankston Dolphins Football Netball Club.